​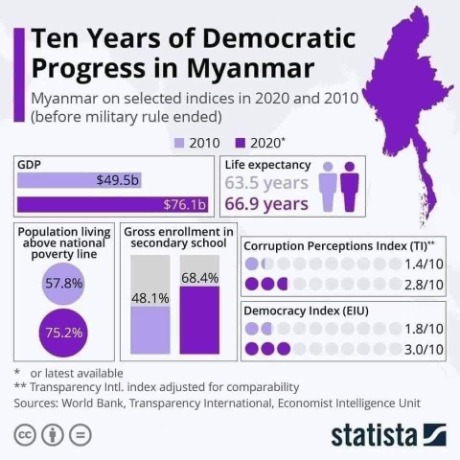 ​The current events unfolding in Myanmar offers a stark reminder that, despite a decade of growth and a perceived shift towards democracy, it has not completely escaped its past.
But having been actors at the forefront of many positive changes to the Myanmar economic and physical landscape over that period, witness to personal and professional growth of its citizens and its local companies and supporting the market entry of foreign investors, we remain hopeful that it is able to continue its impressive development. A shift into reverse would be a tragedy.
The table (above) offers insight of the impact of its re-emergence onto the international stage and with a clear correlation between rising personal and corporate wealth, improved health/wellness, elevated education to support learning and development and societal maturity to further instill investor confidence.
The tragedy is that there is much more that still needs to be achieved. The efforts of the last decade need to be further amplified for the next decade and longer if the country is to be propelled to a more sophisticated economy complete with modern infrastructure, an agile workforce and even greater investor confidence. However a resolution is found, it is necessary if a promising journey can be completed and return the Golden Land to its former greatness.